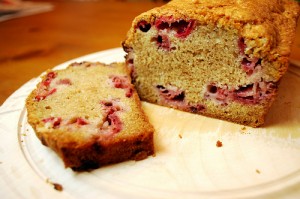 Preparation time : 60 mins. | Serves 6 persons
In this strawberry bread recipe crushed fresh strawberries are used which gives excellent flavor to this bread, you may use strawberry puree to prepare this recipe which will make the whole bread in pink color and have even flavor of strawberry in the bread.
Ingredients:
1/2 cup butter
1 cup sugar
1/2 tsp vanilla extract
2 egg (separated)
2 cup flour
1 tsp baking powder
1 tsp baking soda
1/2 tsp salt
1 cup fresh strawberries (crushed)
Procedure:
1. The method of preparing the strawberry bread is almost same as other bread or cake recipes i.e. at first you need to beat butter and sugar together until become creamy in texture.
2. Then add egg yolks to this mixture and beat again for 2-3 mins.
3. Beat egg whites in another bowl until stiff peaks are formed then fold it in the crushed strawberries with vanilla extract.
4. Combine dry ingredients and sift them together.
5. Now alternately add dry mixture and strawberry mixture to the butter sugar mixture. Make sure that the speed of beater should be slow as you just need to mix them together.
6. Pour the batter in the greased baking pan and place in preheated oven for 50-60 mins. at 350 degrees F.
7. When the bread become ready cool it to room temperature then pour some orange or pineapple juice to make it soft and then place it in fridge to chill for at least 30 mins.
photo source : 1