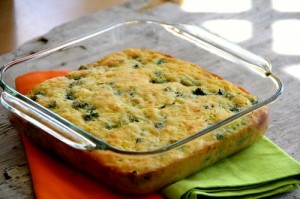 Preparation time : 50 mins. | Serves 8 persons
This is a cheesy Broccoli Cornbread recipe which is quite soft and yummy. The recipe contains sour cream which is an added ingredient to make it little softer than the typical broccoli cornbreads and the flavor of simple seasoning and herbs make it more delicious.
Ingredients:
4 eggs
¼ tsp salt
¼ tsp black pepper
¼ tsp cayenne pepper
8.5 oz Jiffy Corn Muffin Mix
1 pkg frozen chopped broccoli (thawed)
1 white onion (chopped)
8 oz sour cream
½ tsp garlic powder
½ tsp oregano
½ tsp dried basil
½ tsp dried parsley
1 cup shredded cheddar cheese
½ cup unsalted butter (melted)
Procedure:
1. In a mixing bowl beat eggs till become fluffy then mix with sour cream, cornbread mix, all the seasoning and herbs.
2. Heat 1 tbsp of butter and saute onion for just 3-5 mins. to make it little soft. Then cool it to room temperature.
3. Now combine the egg mixture, broccoli, butter and cooked onion and mix well.
4. After that take a greased casserole dish, make a layer of prepared mixture spread and spread shredded cheese on top. Baking the dish at 350 degrees F for 30-35 mins. until become golden brown and bubbly.
photo source : 1