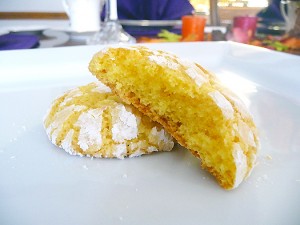 Preparation time : 30 mins. | Serves 1 dozen cookies
These Lemon Crinkle Cookies are more or less similar to the plain lemon cookies except the texture on it. The main step of the recipe is to roll dough into icing sugar which makes the texture crinkle like. You may also use lemon cake mix to prepare the cookie dough to make the recipe easier.
Ingredients:
½ cup butter (softened)
1 cup granulated sugar
½ tsp vanilla extract
1 egg
1 tsp lemon zest
2½ tbsp fresh lemon juice
¼ tsp salt
¼ tsp baking powder
⅛ tsp baking soda
1½ cup all-purpose flour
½ cup powdered sugar
Procedure:
1. In a mixing bowl cream together butter and sugar to make it fluffy and light.
2. Add in egg, lemon zest, vanilla and lemon juice and beat again to mix well.
3. Now gradually add dry ingredients including flour, baking powder, baking soda and salt and mix until unite to form a dough. Place it in refrigerator for 15-30 mins to make it firm.
4. After that divide the dough into small balls of lemon size and then roll each of them into the powdered sugar.
5. Make each ball flatten using rolling pin of size around 1"-1.5".
6. Place them onto the parchment sheet place onto the baking tray and bake in preheated oven for about 8-10 mins. at 350 degrees F or until cookies get light brown from bottom.
7. When cookies are done take them out from the oven and cool it to room temperature.
photo source : 1