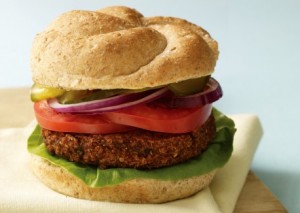 Preparation time : 30-40 mins. | Serves 8-10 burgers
This Quinoa Burger is one of a healthy recipe for those who are fast food lovers but remain healthy and fit. This burger is suitable for everyone as it contains only grains and veggies with very few seasonings. This is a much have recipe for your healthy diet plan as well.
Ingredients:
½ cup rinsed quinoa
1 medium carrot (finely chopped)
6 stalks green onion (sliced)
15 oz black or northern beans (drained and rinsed)
¼ cup breadcrumbs
1 large egg
1 tbsp ground cumin
Salt to taste
1 tsp ground pepper or to taste
Olive oil for shallow frying
Procedure:
1. Take ¾ cup water and bring to boil.
2. Add quinoa and simmer for 15 mins. till all the water absorbed in it and become soft.
4. Now in your food processor, carrot, cooked quinoa, 3 stalk green onion sliced, beans, crumbs, egg, cumin, pepper and salt and process till combine well. The mixture should be chunky. Put it in refrigerator for few mins. to set it.
5. After that start making burger patties of your desired size and set aside.
6. Heat oil for shallow frying in a skillet and fry the prepared patties in batches for 8-10 mins. each side until become golden crisp from both sides.
7. To make quinoa burger place a quinoa patty on a burger piece, stuff it with some tomato slices and jalapeno and then cover with top of the burger piece. Serve the healthy quinoa burger with your favorite sauce like taco sauce.
photo source : 1