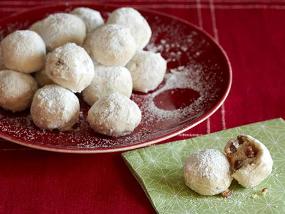 Preparation time : 35 min. + 2 hrs. Resting time | Serves 54 balls
These snowballs are prepared with toasted pecans and can be presented as hi-tea item for occasions like Christmas and Thanskgiving. Instead of using chopped pecans are used in the dough you can also use ground toasted pecans to enjoy full pecan flavor in every bite.
Ingredients:
1½ cup pecans
1 cup butter (softened)
1½ cup icing sugar
1 large egg
2 tsp vanilla extract
2½ cup all purpose flour
1¼ tsp baking powder
1 tsp salt
1 cup icing sugar (for rolling)
Procedure:
1. Toast pecans in a frying pan for just few mins until pleasant roasted smell starts to come. (you can also toast it in oven for 7 mins)
2. Then coarsely chop the pecans and then cool it to room temperature.
3. Now in a large mixing bowl beat together icing sugar and butter until become light and gets thick creamy texture.
4. Add egg and vanilla and beat until gets fluffy.
5. Sift together dry ingredients including flour, baking powder and salt.
6. Alternately add dry mixture and chopped pecans to the egg batter and fold it nicely so that no lumps would be there and pecans are mixed evenly.
7. When smooth dough would form cover the bowl with lid or gelatin sheet and leave it in fridge for at least 2 hrs.
8. After that preheat oven to 350 degrees F and then make 1-inch balls using the dough and then place on the butter paper spread over a baking sheet.
9. Bake the balls for 12-15 min until become light brown from every side.
10. Then take out the balls form oven and roll the hot balls in icing sugar and leave them to room temperature. The sugar starts melting due to hot balls and get sticky.
11. When the balls are cooled to room temperature fold them again in icing sugar to given them snow like touch. You can store these balls in air tight container for weeks.
photo source : 1