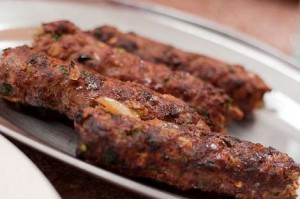 Preparation time : 40 min. + Marinating time | Serves 15-18 large kababs
This is another seekh kabab recipe from Pakistani cuisine. Here in this recipe kababs are prepared by baking method and have flavor of almond. These kababs are very soft due to addition of cream and enough marinating time.
Ingredients:
2 lb ground lamb meat (leaned)
½ tsp roasted ground cumin
½ tsp roasted ground coriander
8 green chilies (roughly chopped)
3 tbsp yogurt
1 tbsp ground almond
1/4 tsp turmeric powder
Salt to taste
1 tsp red chili powder
1 large egg
2 tbsp Ginger garlic paste
1 tbsp cream
2 tbsp raw papaya paste
1 cup coriander leaves (chopped)
Procedure:
1. Drain all the excess water from the ground meat after rinse it with water.
2. Now add all the remaining ingredients to the ground meat and mix it properly. Cover the bowl and leave it in fridge for 4-5 hrs or preferably for overnight.
3. After that grease you hands with oil and make elongated shape kebabs of 5-6 inch long and 1 inch thick. Place them on an aluminum foil spread over the baking dish.
4. Place the dish in preheated oven at 350 degrees F for 30 mins, after 15 mins brush the kababs with oil and turn their sides so that cook from other side too.
5. Take out the seekh kababs from oven when become brown from both sides. Serve the hot seekh kababs with yogurt, sliced onions and lemon.
photo source : 1