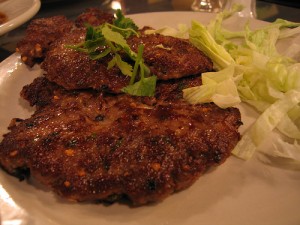 Preparation time : 30 mins. | Serves 6-8 kababs
This chapli kabab recipe is one of a famous street food of Northern Pakistani cuisine. It is usually prepared with mutton or lamb but can also be prepare with beef. To make good chapli kababs you need to have mince with fat so that it would get soft from inside. It is usually served with chapati, fresh vegetable salad and raita.
Ingredients:
½ kg mutton or beef mince (with fats)
2 tbsp ginger garlic paste
1 egg
2 tsp crushed red pepper
1 tsp crushed cumin
2 tsp crushed coriander seeds
1 tsp pomegranate seeds (soaked in water for 30 mins.)
1 tsp garam masala
5-6 green chilies (chopped)
½ cup coriander leaves (chopped)
1 medium onion (chopped)
1 large tomato (seeded and cubed)
2 tbsp graham flour
2 tbsp wheat flour
Salt to taste
Oil for shallow frying
Procedure:
1. Combine all ingredients in a large mixing bowl and mix well using hands. Its good if you rub the mixture thoroughly using your hands (before adding tomato and onions) so that kababs will be soft. If you feel that the mixture is difficult to handle and getting sticky then you can add more graham flour to make batter firm.
2. After that take your hand full of mixture and spread it onto your palm to make it flat or large size.
3. Heat oil for shallow frying and then fry the patties over medium low heat for 8-10 mins. each side so that it cooks well from inside and gets crispy brown from outside.
photo source : 1