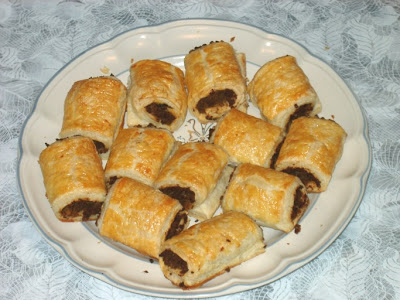 Preparation time : 20 mins + Marination time | Serves 4-6 persons
This beef patties recipe is simple and easy to prepare at home. Generally people buy these patties from bakery but if puff pastry is available then it would become easy to prepare these homemade patties.
Ingredients:
500 gm beef under cut (cut into thin slices length wise)
3 tbsp ginger garlic paste
2 lemon juice
1/4 cup Worcestershire sauce
2 tbsp raw papaya paste
2 tbsp mustard paste
1 tbsp crushed black pepper
1 tbsp crushed red chilies
Salt to taste
1/4 cup oil
1 egg
250 gm puff pastry


Procedure:
1. Marinate beef slices in the above spices including ginger garlic paste, raw papaya paste, lemon juice, Worcestershire sauce, mustard paste, black pepper and red pepper. Leave it for at least 2 hrs, so that all flavors absorb well in the meat and become tender.
2. Heat grill pan to moderate temperature and grill slices one by one for 4-5 mins. until all the water would have been dried out and become brown in color.
3. Take puff pastry dough and roll to make it thin flat. Cut into rectangular strips of 3 inch wide.
4. Put one of the grilled beef slice on a strip, coat beaten egg on the edges and and wrap the dough strip so that beef slice would remain inside and seal the edges using fork. Similarly make other patties and place on greased baking tray.
5. Coat egg on the top surface of the patties and place in preheated oven at 350 degree F for 10 mins until become golden brown in color from top.