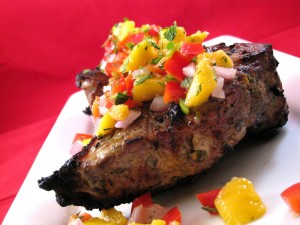 Preparation time : 20 min + Marinating time | Serves 2 persons
This lamb steak recipe is served with salsa as mentioned in the recipe. You may also served it with additional spicy sauce of your choice as the steak itself has not any spicy flavor, usually mango salsa and cherry spiced sauce are also go with these steaks.
Ingredients:
½ kg lamb steak or chops
½ tsp lemon juice
1 garlic clove (crushed)
1 tsp ginger (chopped)
¼ cup orange juice
½ tsp cardamom (crushed)
1 spring onion (chopped)
2 tbsp olive oil
1 tsp black pepper (crushed)
Salt to taste
For Onion Salsa:
1 onion (chopped)
1 tomato (sliced, without seeds)
½ cup sweet corn
2 garlic clove (chopped)
10 – 15 mint leaves
1 tbsp apple cider vinegar
3 – 4 basil leaves
½ tsp black pepper (crushed)
1 tbsp Olive oil
Salt to taste
Procedure:
1. Marinate the lamb steaks with the ingredients mentioned for marination. Then wrap steaks in plastic sheet and refrigerate for overnight.
2. Heat grill pan with 1 tbsp oil and place the steaks onto the pan. Cook it over medium heat until become tender and grill from both sides evenly; it would take 15-20 min.
3. Meanwhile prepare salsa; in a mixing bowl combine together onion, sweet corn and tomato along with remaining salsa ingredients and mix well.
4. Serve the hot lamb steaks with salsa in a beautiful serving platter.
photo source : 1