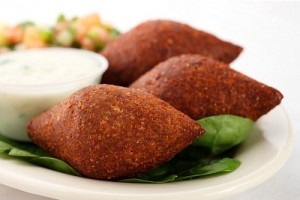 Preparation time : 30 mins. | Serves 12 balls
This Kibbeh Recipe is taken from Middle Eastern cuisine and is a very famous Lebanese food. These kibbeh balls are basically Lebanese Meatballs prepared by using lamb meat. The Kibbeh is usually served with Mediterranean salads similar to greek cabbage salad and the green salad along with greek yogurt.
Ingredients:
For Outer Covering:
1 brown onion (coarsely chopped)
½ lb boneless lamb or beef (leaned and cubed)
1 cup bulgur
Salt and pepper to taste
For Filling:
1 tbsp olive oil
½ brown onion (finely chopped)
2 tbsp pine nuts (finely chopped)
1 tbsp Middle Eastern spice mix
½ cup lamb or beef mince (leaned)
For Middle Eastern Spice Mix:
4 tbsp curry powder
4 tbsp paprika
4 tbsp turmeric
1.5 tbsp ground cumin
1.5 tbsp ground coriander
1.5 tbsp ground allspice
1 tbsp fresh ground black pepper
1 tbsp salt
For Serving:
½ red onion (thinly sliced)
¾ cup fresh continental parsley leaves
1 tsp sumac
1 cup low fat yogurt

Procedure:
To Prepare Filling:
1. Saute onion and pine nuts in oil until onion becomes soft.
2. Add Middle Eastern Spice Mix, stir well then add lamb mince and cook over medium heat until meat gets dry and brown. After that remove the pan from heat and set aside.
To Prepare Outer Covering:
1. Process together onion, lamb meat and seasoning of salt and pepper in food processor.
2. When mixture becomes smooth, gradually add bulgur and process after each addition until the mixture unite to form a dough like texture.
3. Take out the dough into the ball and make 12 equal balls.
How to make Kibbeh Balls?
1. Now take a piece of ball, make it flat around size of your palm or even slightly larger, put 1-2 tbsp of prepared filling at the center and bring the edges together to enclose the filling. Give it shape whatever you like either round or oval. Similarly prepare rest of the kibbeh balls.
2. Heat oil for deep frying in a wok, add the kibbeh balls in batches and fry them over medium heat until become golden brown from every sides.
3. Combine together red onion, parsley and sumac in a bowl and serve the hot kibbeh balls with the prepared salad and yogurt.
photo source : 1