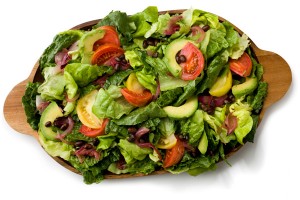 Preparation time : 10 min. | Serves 1 large bowl
This recipe of green salad is one of a healthy winter salad recipe as various green veggies are easily available in this season. You may also add spinach or boiled broccoli to make it more healthy while giving it some low fat cheese flavor you may add labneh. Serve this green salad with any meal.
Ingredients:
1 onion (thinly sliced)
2 small tomatoes (cut into wedges)
1 cucumber (thinly sliced)
Lettuce (chopped)
½ cup boiled green peas
¼ cup green olives
¼ cup black olives
Salt and freshly ground pepper to taste
2 tbsp lemon juice
1 tbsp olive oil
Procedure:
1. Prepare dressing for the salad by mixing lemon juice, oil, salt and pepper.
2. Toss veggies in the dressing except tomatoes.
3. Transfer the salad onto the platter or bowl and place wedges of tomatoes over top.
photo source : 1