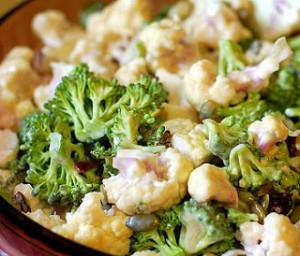 Preparation time : 5 mins. + 1 hr. Refrigeration time | Serves 1 medium bowl
This Broccoli Cauliflower Salad is prepared with mayo, yogurt and cheese dressing along with flavor of basil, celery and dill. You can make it low-fat by adding greek yogurt and remove cheese from the dressing.
Ingredients:
1 small head cauliflower (cooked)
1 small head broccoli (steamed)
1 small onion (diced)
3 tbsp chives (diced)
For Dressing:
¼ tsp salt
1 tsp black pepper
½ tsp dried basil
½ tsp celery salt
2 tbsp fresh dill (chopped)
1½ tbsp fresh lemon juice
¼ cup mayo
½ cup plain yogurt
¼ cup shredded cheddar cheese
Ingredients:
1. Prepare dressing by mixing all the ingredients mentioned for making dressing.
2. Add all the vegetables into the prepared dressing and mix well. Refrigerate the salad for an hour to chill before serving.
photo source : 1