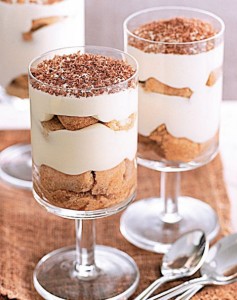 Preparation time : 30 min. | Serves 2-3 glasses
This easy Tiramisu recipe is taked from Italian cuisine where it is prepared in different fashion. This recipe contains a simple tiramisu dessert prepared with coffee flavoured biscuit and special tiramisu cream.
Ingredients:
100 gm mozzarella cheese (grated)
100 gm icing sugar
3 eggs (separated)
1 cup cream
Pinch of salt
1 cup milk
2 tbsp sugar
3 to 4 tbsp coffee (according to your taste)
Half pack Marie biscuits
1 tsp coco powder
100 gm chocolate(grated)
Procedure:
1. In a sauce pan heat cream till it boils.
2. Add mozzarella cheese and 3 egg yolk and icing sugar to cream and mix well. Cook the mixture over low heat for just 2 min, keep stirring so that sauce would not stick to the pan.
3. In a separate bowl whisk together egg whites and salt till stiff peaks are formed.
4. Now fold both the mixture together then refrigerate for 15 min to set.
5. Meanwhile in milk add coffee and sugar and let the mixture cook over medium heat till coffee dissolves completely in the milk.
6. Now dip Marie biscuits in the coffee mixture and leave it for a while.
7. In the serving glass or bowl, first place the layer 1-2 biscuits, then pour half of the prepared cream, drizzle some coffee mixture, and then repeat the layers in the same patter. In the end sprinkle some coco and grated chocolate and served after chill.
photo source : 1