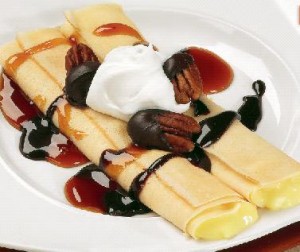 Preparation time : 30 mins. | Serves 6 persons
This crepes recipe is from French cuisine, this delicious dessert is very easy to prepare at home as it is prepared by simple crepes with custard filling. These kind of simple and easy dessert are wonderful for summer dinner parties.
Ingredients:
For Pancake:
1 cup all-purpose flour
2 eggs
1/2 cup milk
1/2 cup water
1/4 tsp salt
2 tbsp butter (melted)
For Filling:
2 cup milk
1-2 tbsp vanilla custard (or any flavor)
Sugar to taste
½ cup cream
For Topping:
Chocolate sauce
Toasted pecans
Whipped cream
Procedure:
1. Beat eggs in a bowl just to blend yolks and whites together.
2. Add milk, salt and sugar and mix using whisk.
3. Gradually add flour and stir it into the batter until become smooth.
4. Heat 1-2 tsp of oil in griddle or frying pan and spread it well around the surface of pan.
5. Pour ¼ cup of batter onto the pan and spread it evenly, when bubbles starts to appear on the top of pancake and it easily slides away from the edges then turn it and cook from other sides to just become light brown in color, keep heat slow during cooking.
6. Now prepare custard for filing, for that you need to boil the milk, add sugar,, dissolve custard powder in ¼ cup cold milk and then mix it into the boiled milk and keep stirring the custard otherwise lumps may form. When the custard gets thick and starts bubbling remove it from the heat, make sure that custard should has medium consistency.
7. Mix cream into the custard and then place in fridge to chill.
8. Now take a pancake and pour 2 tbsp of the prepared custard at the center and wrap from one side to other. Similarly make rest of the rolls.
9. Place the rolls on serving platter and sprinkle some chocolate sauce, toasted pecans and cream on it.
photo source : 1