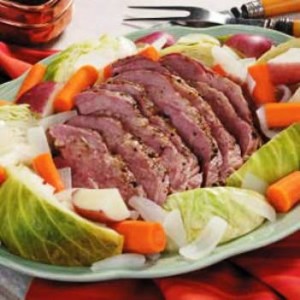 Preparation time : 3-4 hrs. | Serves 6 persons
The method of preparing the corned beef and cabbage recipe is simple but it only takes time in cooking. You can cook it in a slow cooker also as there is no need to check while brisket is cooking and you can also prepare this recipe for your dinner party.
Ingredients:
3 lb corned beef brisket
8 cloves garlic
1 inch ginger (minced)
2 tsp black peppercorns
Salt to taste
1 tsp cayenne pepper
6 medium onions
6-8 medium red potatoes (scrubbed and halved)
6 medium carrots (peeled and cut into large pieces)
1 green cabbage (trimmed and cut into large wedges)
Procedure:
1. Take a heavy pan for brisket and add water so that water level should 1-2 inches above the brisket.
2. Now add seasoning of salt, pepper corns, cayenne pepper, garlic and ginger and let it boil.
3. When water boils reduce the heat to low, cover the pan and cook for 2-3 hrs. until beef would become tender.
4. Just before30 mins when meat is going to cook completely add the onions, potatoes, carrots
and cabbage and continue cooking until they are just tender.
5. After that transfer the cooked brisket to the serving platter and cover it tightly to keep it warm.
6. Now cook the veggies until all the water would get dry and then arrange the vegetables on the brisket platter around it and then serve hot corned beef brisket and cabbage with pickles and mustard.
photo source : 1