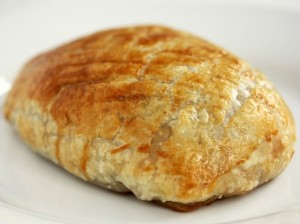 Preparation time : 30 min. | Serves 6 persons
This beef wellington recipe is prepared with beef, chicken liver and mushroom flavor. The recipe looks quite lengthy but it is prepared in short time. You may use variation in the filling such as adding cheese layer, or some other vegetable like carrot or capsicum, etc.
Ingredients:
For Beef:
1 kg beef fillets
1 tbsp mustard paste
1 tbsp crushed black pepper
1 tsp garlic paste
2 tbsp Worcestershire sauce
1/4 tsp rose merry
1 tsp salt
Oil for shallow frying
For Chicken Liver:
250 gm chicken liver
2 tbsp oil
1 tbsp ginger garlic paste
1 large onion (finely chopped)
1 cup mushroom
1 tbsp crushed black pepper
250 gm puff pastry dough
1 egg (lightly beaten)
Procedure:
1. Marinate beef fillets for 15 min. with the ingredients mentioned to prepare beef.
2. In a grill pan heat oil for shallow frying and cook beef fillets over medium heat until become brown from both sides. Then cover the pan and cook for 8-10 min until meat would get tender.
3. After that take the beef fillets out from the pan and add oil in the same pan to cook chicken liver.
4. Add ginger garlic paste, onion and chicken liver and cook over high heat for 5 min.
5. When onion would get soft add mushroom and black pepper and cook for 5 in more over same heat. Chop liver and mushroom pieces while cooking so that they look like mince.
6. Now Cool the prepared beef and liver to room temperature. Divide puff pastry into two pieces roll out both pieces separately, place beef fillets on one of the piece and spread chicken liver and mushroom mixture over the fillets. Brush the sides of the dough with egg and cover the topping with another puff pastry piece sealed the sides properly using fork and brush the top with egg.
7. Place the wellington in baking dish and bake for 10-12 min at 350 degrees F.
8. When the beef wellington turn into golden brown from top take it out from oven and cut into thick slices after cool it slightly.
photo source : 1