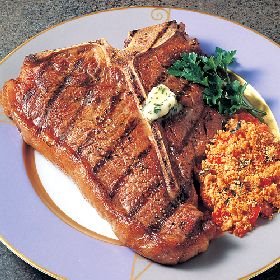 Preparation time : 15 min + 90 min Marinating time | Serves 4
This is a slightly modified recipe of the original Marinated Steak recipe from Outback Steakhouse restaurant. The ingredients are so simple that you can make it any time. To make this recipe is short time you will have to use the undercut piece of beef.
Ingredients:
4 beef steaks (your favorite cut)
½ cup soda water or sprite
½ cup white vinegar
1 tbsp brown sugar
1 tsp seasoned salt
½ tsp black pepper
½ tsp onion powder
½ tsp garlic powder
Procedure:
1. In a shallow pan, put steak pieces and pour sprite and vinegar over the whole steaks and then leave for 1 hr. in fridge.
2. After that take out steak pieces from the mixture and rub with dry ingredients including brown sugar, seasoned salt, black pepper, onion and garlic powder and leave for 30 min to marinate properly.
3. Meanwhile preheat your grill pan to medium high heat and then grill steaks until become tender and medium brown from top. It would take 10-15 min.
4. Serve the hot marinated steaks with your favorite steak sauce.
photo source : 1