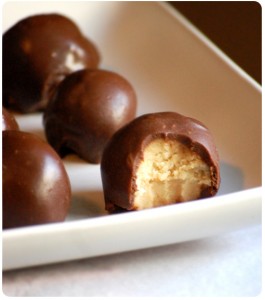 Preparation time : 20 min + Cake preparation time | Serves 16-20 balls
This cake balls recipe is prepared with vanilla cake and white chocolate frosting which is then coated with melted chocolate. You can also reverse the color of these cake balls by using chocolate cake and dark chocolate frosting inside and white chocolate coating outside.
Ingredients:
18.25 oz vanilla cake mix
16 oz prepared white chocolate frosting
3 oz chocolate flavored confectioners coating
Procedure:
1. According to the package instruction prepare vanilla cake and then immediately make crumbs of the hot vanilla cake.
2. Stir the crumbs into the frosting until well blended.
3. Using melon scoop make cake balls using the mixture and seat aside.
4. Melt chocolate in microwave and then dip each ball well in the melted chocolate and leave in fridge until sets completely.
5. You can also coat balls with colorful sprinkles to make these cake balls attractive.
photo source : 1