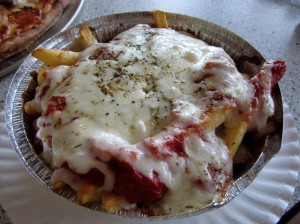 Preparation time : 15 mins. | Serves 2-4 persons
This Pizza Fries Recipe is one of a great flavor of potato fries. You can make it in a quick session by just putting layers like we do for pizza and here it is – the cheese fries with delicious pizza flavor.
Ingredients:
1 large bowl prepared fries
1-1½ pizza sauce
2 cup mozzarella cheese (shredded)
½ tsp dried oregano
Procedure:
1. Take a baking bowl or you may use round foil take away container, put the fries in it, spread the shredded mozzarella cheese and then sprinkle some dried oregano on top.
2. Place the bowl in preheated oven at 350 degrees F for just 10 mins. until cheese melts.
3. Pizza Fries are now ready to serve.
photo source : 1