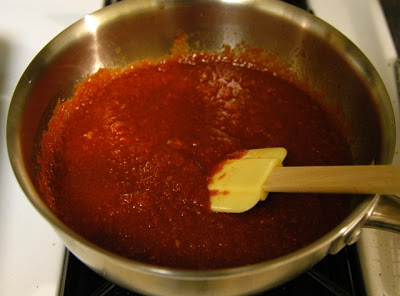 Preparation time (approx) : 20 mins | For 2 pizzas
This is real easy
Pizza sauce recipe
which is prepared the same way almost in every cuisine. Tomato puree, garlic, red chili powder are the main ingredients for pizza sauce and addition of rose merry and oregano during the
sauce making
process enhances its flavor and smell. Pizza sauce is used as the base for pizza topping.

Ingredients:
1 cup tomato paste
½ cup tomato ketchup
3-4 cloves garlic copped
Salt to taste
1 tbspn red chili crushed
1 tbspn white vinegar
3 tbsn oil
1 tspn black pepper
1 tspn white pepper
1 tspn oregano
1 tspn rose merry
Water to cook
Procedure:
1. Heat oil in a pan and add garlic to give it brown color.
2. Add tomato paste, ketchup, red chili, pepper and salt and cook for 2-3 minutes.
3. Add rose merry and oregano, stir and add ½ cup water in it.
4. Stir continuously and cook on high heat till all the water has been dried.