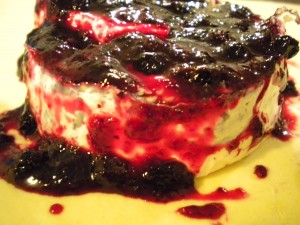 Preparation time: 45 mins. | Serves 8 persons
This Baked Brie With Jam is a french easy-to-made food or you can say a French dessert. This recipe can be prepared in a variety of ways one of the methods is mentioned in this recipe while in some other methods some nuts toppings and different flavors of jam.
Ingredients:
12 oz brie wheel
2 cups blueberries (fresh or thawed frozen)
1 tbsp butter
½ tsp vanilla extract
1 tsp salt
¼ cup honey
½ cup orange juice
Procedure:
1. Heat oven to 425 degrees F.
2. In a bowl, combine blueberries, butter, honey, vanilla extract, and salt.
3. Place parchment paper on a baking sheet and then spread the blueberry mixture on it. Roast it for 15 mins. until tender.
4. After that combine roasted blueberries with honey and orange juice and set aside for 15-30 mins. until all ingredients incorporate well.
5. Meanwhile bake the brie wheel for 15 mins. at 375 degrees F until it gets soft.
6. Then take it out of the oven and pour the prepared blueberry sauce on top.
7. Serve the baked brie with jam with bread slices or crackers.
photo source : 1