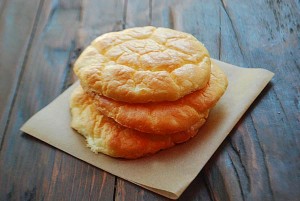 Preparation time : 60 mins. | Serves 6 rolls
Oopsie Rolls are a low-carb rolls or bread which are best for breakfast. It is totally a gluten-free bread which can be seasoned according to your choice. If you want to serve as it is then you may add some flavors like garlic butter topping, mix herb topping, parmesan topping, etc. However, simple oopsie rolls can also be used in making different kind of sandwiches.
Ingredients:
3 large eggs (yolks and whites separated)
Pinch of cream of tartar
3 oz cream cheese
1 tbsp sugar
Procedure:
1. In a mixing bowl cream together egg yolks, cream cheese and sugar at medium speed.
2. In another large bowl beat egg whites with cream of tartar until stiff peaks are formed.
3. Now carefully fold the egg whites with the yolk mixture so that egg whites would remain stiff and peaks would not settle down.
4. After that place a parchment sheet onto the cookie tray and then using large spoon put the prepared batter onto the sheet at six places keeping 2" distance between each mounds. Spread Slightly press the mound to make little flat and then place the try in preheated oven at 300 degrees F for 20-25 mins. until become golden brown from top.
5. Cool the rolls to room temperature or you can cook it in fridge and serve with tea or use it for making sandwiches.
photo source : 1