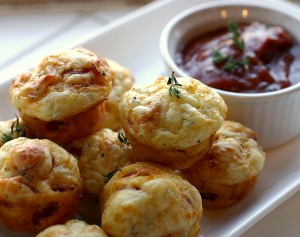 Preparation time : 20 min | Serves 10 puffs
These pizza puffs are prepared with biscuit dough which can be easily available in the store. In this recipe no vegetable topping is used and has full cheesy flavor but you can use chopped veggies for topping.
Ingredients:
7.5 oz refrigerated biscuit dough
1 tsp dried oregano
½ tsp garlic powder
½ tsp thyme
Dries parsley for topping
10 small cubes of mozzarella cheese
2 tbsp pizza sauce
Procedure:
1. Preheat the oven to 375 degrees F.
2. Divide the biscuit dough into 10 equal pieces.
3. Now take a piece of biscuit dough and make it flat by pressing.
4. Coat it slightly with pizza sauce and then turn the sides of the dough upward to make cup shape.
5. Put a cube of cheese in the cup of dough and sprinkle oregano, thyme, garlic powder and parsley on top of cheese. Make sure that the edges of dough perfectly cover the sides of cheese so that when cheese melts it would not drop outside.
6. Similarly prepare rest of the puffs. Place the pizza puffs on a greased baking dish and bake for just 10-15 min until cheese melts completely and turn into slightly brown from top.
photo source : 1