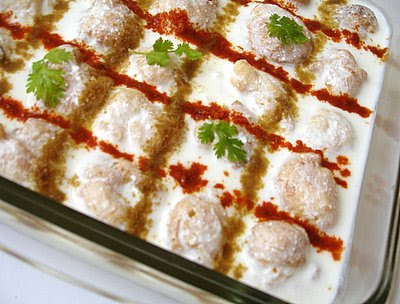 Preparation time : 45 mins | Serves 10 persons or more
Dahi vada has different names in South Asian cuisine like "Dahi Baray", "Dahi Pholki", "Dahi Balle", etc. all due to different shapes, while in western cuisine it is also called as "Lentil dumplings in Yogurt ". But the recipe of all these is same, vada or dumplings can also be made from black gram flour but the original dahi vada is made from black gram lentils paste. Its has little sour, salty and sweet taste due to dahi or yogurt sauce. It's a main dish for tea time in South Asia and is mostly prepared during Ramadan.
Ingredients:
For Vada (dumplings):
1 cup Black gram (skinned and soak in water for over-night)
2 tspn baking soda
½ tspn red chili powder
1 tspn garlic paste
Salt to taste
water as required
Oil for deep frying
For Dahi (Yogurt Sauce):
2 cup dahi (yogurt)
1 tspn red chili powder
½ tbson roasted cumin powder
1 tbspn sugar
1 tspn salt
Water as required

Procedure:
1. Drain all the water from the lentils.
2. Take a blender and put lentils into it, in the beginning add only ¾ cup of water and let it blend. If the lentils would not blend easily then add more water but make sure that the lentils paste should be very thick otherwise the dumplings or vada will become hard.
3. Now pour the blended paste into a mixing bowl and add rest of the ingredients including; baking soda, red chili, garlic paste and salt.
4. Beat the mixture using electric beater until the batter would become light and soft, it would take 15-20 mins. This is a very important step in making dahi vada so that dumplings would become soft and light.
5. After that, take a deep frying pan and heat oil for frying. Using your hand take little amount of batter and dip it into preheated oil in circular shape and fry on medium heat. You may also use table spoon for this purpose and every time you need to dip spoon or hand in cold water before taking batter into hand so that the batter would come out easily from your hands while dipping into oil.
6. When the dumplings or vada become golden brown from both sides, take them out from oil.
7. When all the vada become ready, make a sauce of dahi (yogurt) in a mixing bowl. Pour dahi into another mixing bowl and beat using whisk to make it smooth.
8. Now add red chili, salt, sugar and cumin powder in the dahi and mix them well. Add 1-2 cup of water if you want thin sauce.
9. After that one by one put the dumplings into the dahi and soak them well in the sauce and leave for at least 15 mins so that sauce would absorb in the dumplings.
10. At the time of serving, sprinkle some dahi vada spice mix or chaat masala which enhances its taste great.