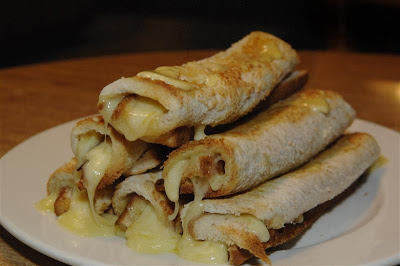 Preparation time : 90 mins | Serves 10 persons
This cheese roll recipe is different in a way that the dough for roll is prepared in a same manner as pizza dough and hence it becomes very soft and crispy. The stuffing is made by mixing different types of cheese and you can add or adjust flavors of cheese according to your taste. For more delicious recipes with cheese, refer to the book Cheese, Glorious Cheese, which contains over 75 tempting recipes for cheese lovers.
Ingredients:
For dough:
3 cups all-purpose flour
1 1/2 teaspoons instant yeast
1/4 teaspoon sugar
1 cup water
1/4 teaspoon salt
1/2 cup powdered milk
1 egg
1/2 cup oil
For Stuffing:
1 cup cottage cheese (shredded)
1/4 cup parsley (finely chopped)
1 cup mozzarella cheese (shredded)
¼ cup cheddar cheese
¼ cup parmesan cheese
1 tbspn fresh oregano
Pinch of freshly crushed black pepper
Oil for deep frying

Procedure:
1. In half cup normal water or lukewarm water (don't use hot water) mix yeast and sugar and leave for 10 minutes until bubbles appear on the top of mixture and become foamy.
2. In a bowl of dough mixer combine flour, salt, milk powder, oil and egg and turn on the mixer at slow speed so that all ingredients mix together.
3. Now add the yeast mixture in the flour mixture and mix them. After a minute speed up the mixer so that dough would form and when dough pulls away from the sides of the bowl turn off the mixer.
6. Roll the dough and put it in the deep bowl and coat it well with oil. Cover the bowl with plastic and leave for an hour.
7. Mix all the ingredients of stuffing in a mixing bowl.
8. Take a small piece of dough and roll it using wooden roller. Make it a flat shape of thin size and cut into square.
9. Now at one of the corner place a tablespoon of cheese mixture or fill according to the size of dough and roll it in a way that the at first wrap the two adjacent corners towards the center and then start rolling the dough from the filling side till opposite corner. In this way a roll would form. You may also fill it to form balls or make two flat dough and place stuffing on one of them and then cover with another flat piece so that the sides are sealed properly.
10. Now you have a choice you may either fry these rolls or bake in oven.
For Deep Frying:
Take a deep fryer and heat oil to moderate temperature, then put rolls in the oil and fry them on medium heat. When they turn into light golden in color, take them out from the oil.
For Baking:
Preheat oven to 400 F. Grease the suitable baking tray and place rolls on it by keeping some space between them. Now place it in oven for 10 minutes and when they become light golden in color, take them out from the oven.
Serving:
Delicious cheese rolls are ready to serve with ketchup.