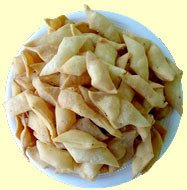 Preparation time (approx) : 30 mins | Serves 4 persons
This is is one of the most popular and common salty snacks prepared in Pakistan and India. It has very few ingredients and to make perfectly, the dough must be properly kneaded. To prepare this easy snack food at home just follow the exact instructions and you will notice that when when you make crumbs, they will be very soft and light yellow in color. This is usually a tea time snack and I undoubtedly put it in my list of quick and easy snacks

Ingredients:


2 cup plane flour
Salt to taste
4-6 tbspn butter (melted) or ghee
Oil for deep frying
Procedure:

1. In a bowl mix well flour, salt and butter until the flour become so soft that if you take in hands and press then the flour will become dry dough like and feel very soft. (it takes 10 minutes)
2. Now slowly add normal water in it to make dough. Make sure the dough is not so hard and not so soft.
3. Make 4 or 5 pieces of dough. Take one piece and spread using wooden bread roller to give it very thin round shape.
4. Using knife cut the dough in vertical columns (1/2 inch apart) and then cut diagonally (1/2 inches a part) to make rhombus shapes.
5. Using knife carefully take out the pieces on the plate.
6. Heat oil in deep pan. In very hot oil put these pieces on high heat and stir, the pieces will start to rise immediately and when turn into light brown in color take out from the oil.
7. Similarly, do the same with rest of the pieces of dough.

Serving:
Serve your

salty and crispy snack

with tea or ketchup.