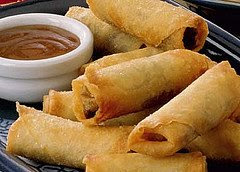 Preparation time (approx) : 30 mins | Serves 10 persons
Fried rolls are quite familiar snack for almost everyone and when looking for vegetable snacks, rolls are my ultimate choice . There are many varieties of rolls prepared these days some of which are bbq rolls, vegetable rolls, minced meat rolls etc. This Cabbage roll is one of the kind of vegetable rolls in which cabbage is used in more quantity than other veggies. Since most of the filling of roll is of cabbage so it is adviced to use a cabbage shredder for cutting cabbage evenly.These rolls are very healthy as they contain lot of vegetable nutrition and also have very low fat contents. It is also advised to only pick the best and fresh vegetable available when making any kind of vegetable roll.

Ingredients:


1 1/2 cup cabbage (chopped)
1 cup carrot (chopped)
1 cup capsicum (chopped)
1 cup spring onion (chopped)
1 tspn white pepper
1 tspn black pepper
1 tspn salt
½ tspn Chinese salt
1 tspn chili sauce
1 tspn soya sauce
1 tspn Worcestershire sauce
3 tbspn oil
Roll strips as required

Procedure:
Filling Preparation:


1. In deep pan heat oil add cabbage, carrot and capsicum in it and cook on medium high flame till all the vegetables become tender and their water have been dried.
2. Now add spices and sauce in it and cook for 3-4 minutes.
3. Add spring onion and stir it for 3 minutes.

Note :

Using a mandolin slicer will save you lot of time for other work as it slices, dices, shreds and make cubes of vegetables and fruits in very little time.

Frying:
1. In a roll strip put the filling on one corner of strip slightly wrap from sides and fold it diagonally. Paste the beated egg on the corners of the strip so that the layers of roll stick well.
2. In preheated oil, deep fry the rolls and dish out till it become golden brown in color.

Serving: