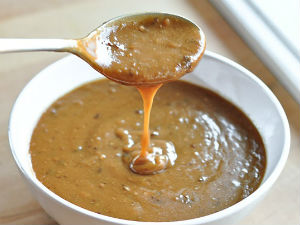 Preparation time : 40-50 mins. | Serves 4 cups
This is one of the Best Turkey Gravy Recipe serve with any kind of turkey dishes. The recipe is simple and easy, the only time it takes in preparing the stock. Whenever, you prepare turkey for thanksgiving then this gravy would better complement your dish and enhance its flavor.
Ingredients:
2 lb turkey neck and giblets
1 celery stalk (coarsely chopped)
½ cup onion (chopped)
4-6 cloves garlic
1-inch ginger
Salt to taste
1 cup turkey pan drippings
½ cup butter (softened)
6 tbsp all-purpose flour
Procedure:
1. To make turkey stock or broth, in a saucepan add turkey neck and giblets, celery stalk, onion, garlic, ginger and salt.
2. Add enough water to the pan so that all the ingredients dip completely. Cook the mixture over high heat until it begins boiling then reduce the flame to simmer and cook until turkey neck and giblets become tender.
3. Meanwhile separate fat from the drippings, to do this pour the dripping into the measuring cup and keep it in fridge for 30 mins. After that, the fat and drippings will separate and the fat will begin to harden. Discard the fat and reserve the drippings.
4. When the turkey neck and giblets are done, pass the mixture through the strainer, the liquid obtained is the turkey stock.
5. Combine the turkey stock and drippings and make up to 4-cups, if it is not enough then add more stock or water.
6. Now heat butter in a saucepan, add flour and stir well to cook it evenly. When a pleasant aroma starts to come add the dripping-stock mixture and whisk thoroughly to mix.
7. After few mins, the sauce starts bubbling and becomes thick. When it reaches to the desired consistency of gravy, immediately remove the pan from heat.
8. Turkey gravy is ready to serve with turkey roast, mashed potatoes and turkey breast.
photo source : 1