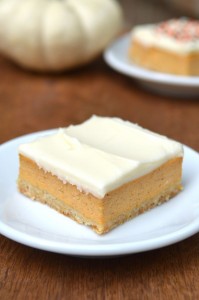 Preparation time : 60 mins. + Refrigeration time | Serves 8 persons
These Pumpkin Cheesecake Bars are prepared with a particular pastry crust, pumpkin filling and cream cheese frosting. Though these bars take too much time in preparation but the taste is awesome. You can make it for any dinner party as a dessert.
Ingredients:
For Crust:
1½ cup all-purpose flour
¼ cup sugar
¼ tsp salt
4 oz unsalted butter (cut into small cubes)
1 large egg
For Filling:
16 oz cream cheese (softened)
½ cup sugar
¾ cup pumpkin puree
2 tbsp maple syrup
½ tsp vanilla essence
2 tsp pumpkin pie spice mix
2 large eggs
For Frosting:
4 oz unsalted butter (softened)
8 oz cream cheese (softened)
3 cup confectioners' sugar
1 tbsp vanilla extract
½ tsp salt
Procedure:
1. In your food processor process together flour, salt, butter and sugar and make crumbs like texture. Then add beaten egg and just give few pulses so that the mixture hold together to form a dough. If necessary add few tbsp of water.
2. Then transfer the dough to the counter and give some punches to make it even and then wrap in plastic sheet to refrigerate for an hour.
3. Meanwhile prepare filling for the cheesecake, for that you need to beat cream cheese in a large mixing bowl until become smooth.
4. Then beat with sugar for 2-3 mins. Add pumpkin pie spice mix, vanilla and eggs to the batter and beat well till the mixture becomes uniform. This batter will be slightly thinner than typical cream cheese batter.
5. Now take out the prepared crust dough from the fridge and roll it to the size of your pan or dish. The thickness should be quarter inch which makes perfect crust. Lie the rolled dough to the greased baking dish and fix it nicely to the dish.
6. Place a piece of foiling sheet onto the crust, put some baked beans or weight on it and bake in preheated oven for 15 mins. at 375°F.
7. When the crust is ready cool it to room temperature, then pour the prepared pumpkin filling on it and bake for 30 mins. at 300°F, until the cake is set and puffy.
8. Now prepare frosting for the bars, beat cream cheese until gets smooth then beat with sugar, vanilla and salt. Cover the frosting bowl with plastic sheet and refrigerate.
9. When the cheesecake is ready take it out from oven and cool it to room temperature and apply the frosting on top. Refrigerate for an hour. to set the frosting and then cut into bars.
10. You can serve the delicious Pumpkin Cheesecake Bars with topping of toasted chopped pecans.
photo source : 1