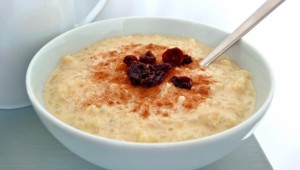 Preparation time: 30 mins. | Serves 2-4 persons
This Mexican Rice Pudding Recipe is prepared in a slightly different way as compared to typical rice pudding. In this recipe, rice is first cooked in water, then cook with milk, raisin, cinnamon, and egg until pudding consistency is achieved. This rice pudding has a slightly creamy flavor which increases its taste due to the use of condensed milk and evaporated milk in the recipe.
Ingredients:
1 cup rice (soaked in water for 30 mins.)
2 tbsp unsalted butter
2 cup water
2 cups condensed milk
1 cup evaporated milk
1 tbsp flour
1/3 cup sugar
1 egg
1 tsp vanilla essence
½ cup raisins
½ tsp ground cinnamon
Procedure:
1. Boil rice with water and butter in a deep saucepan, and then reduce the flame to simmer until rice has been cooked completely and there will be no liquid.
2. After that combine evaporated milk, egg, vanilla, flour, and sugar and whisk them well to mix.
3. Add this mixture to the cooked rice and stir well to mix evenly. Simmer for 5 mins.
4. Then add condensed milk, raisins, and cinnamon and cook for a further 5-10 mins, until thoroughly mixed.
5. Take out the delicious Mexican Rice Pudding into the serving bowl, cool it to room temperature, then serve with a topping of ground cinnamon.
photo source : 1