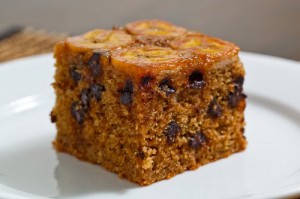 Preparation time: 80 mins. (approx.) | Serves 6-8 persons
This Banana Upside Down Cake Recipe is prepared with chocolate chip flavor rather than nuts flavor. Another unique feature of this recipe is the use of whole wheat flour instead of all-purpose flour so that people who don't take a gluten diet can also enjoy this yummy banana cake. The addition of caramel glaze topping makes this cake more delicious and moist.
Ingredients:
½ cup packed brown sugar
3 tbsp unsalted butter (cubed)
2 large bananas (sliced)
½ cup chocolate chips
1½ cups whole wheat flour
¾ cup white granulated sugar
1 tsp baking powder
1 tsp baking soda
½ tsp salt
¼ tsp ground cinnamon
1 cup mashed overripe bananas
2 large eggs
⅓ cup vegetable oil
⅓ cup buttermilk
1 tsp pure vanilla extract
Procedure:
1. Take a 9×5 inch loaf pan, spread brown sugar at the bottom, and dot with the butter pieces on top. Place the pan in preheated oven at 325 degrees F for 5-8 mins.
2. After that when the butter melts, stir the brown sugar and melted butter mixture until the sugar dissolves completely. Place the banana slices onto the sugar mixture and set aside.
3. In a mixing bowl, combine all dry ingredients including flour, sugar, baking powder, baking soda, salt, and cinnamon, and mix well.
4. Then add all the remaining wet ingredients and beat at slow speed until combined. Finally, add chocolate chips and fold them nicely with the batter using a spatula.
5. Pour the batter onto the banana slices and bake for 50-60 mins. or until a toothpick inserted into the middle of the loaf comes out clean.
6. When the cake is done, cool it to room temperature, then invert it onto the cake platter and cut it into slices for serving. You can also pour some caramel glaze on top for making it moist.
photo source : 1