Flatware sets are made with different materials ranging from metallic to plastic bodies. The metallic category consists of several other ranges which include stainless steel, silver, wooden handle, etc. Among them, the Stainless Steel Flatware Sets are like most because of their affordable price and quality. The bestselling Stainless Steel Flatware Patterns are Bordered style Oneida Flight 20-piece Flatware Set and Solid Style J.A. Henckels Premier Series Opus 45-Piece Flatware Set.
Bordered Style Oneida Flight Flatware Set
Bordered Style Flatware sets generally come under the formal flatware category. This kind of pattern has an elegant design of border either on the edges, on the top of the stem, or in between the stem. Oneida Flight is among the largest producer of bordered-style Stainless Steel Flatware Patterns and its 20-piece set for 4 persons is the bestselling flatware set. This set is best for smaller families and you can use it for making larger sets of bordered style. The bordered pattern is marked as a wave line in between the stem. The stainless steel body is made of 18/10 corrosion-resistant material which doesn't need any more polishing and hence, is easy to clean.
What is in the Box?
The set consists of 5 different varieties of flatware each has a set of 4 units; the set consists of
4 Dinner forks
4 Salad forks
4 Soup spoons
4 Teaspoons
4 Knives
All these flatware are designed ergonomically so that anyone can easily grip and carry easily even if the left-most tine on the salad fork is wider to provide extra leverage when cutting food that normally does not require a knife, such as lettuce, soft vegetables, or pie.
Where to Buy?
This Oneida Flight Flatware Set is available in various online stores but Amazon is offering this bordered-style Stainless Steel Flatware Pattern set at an affordable price of $39.99 with Free Shipping.
Solid Style J.A. Henckels Premier Series Opus Flatware Set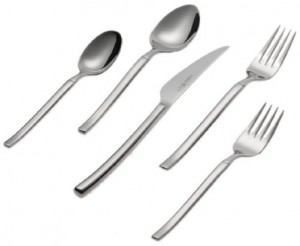 Solid Style patterns of flatware can be used for both formal and casual use. J.A. Henckels has introduced various Solid Stainless Steel Flatware Patterns which are all unique. This J.A. Henckels Flatware Set belongs to the Premier Series Opus family and it consists of 45-pieces flatware. All the units in this set are made with high-quality 18/10 stainless steel alloy with elegant designs that you can even put into your dishwasher safely. The unique feature of this Opus pattern is that every unit gives a contemporary look because the handles of the fork and spoon are turned up slightly at their ends while knife handles are designed with a curve edge to the right. This 45-piece large flatware set is made for 8 servings with 5 different flatware units plus a 5-piece of hostess set which makes this set a complete formal flatware set.
What is in the Box?
8 Dinner forks
8 Salad forks
8 Soup spoons
8 Teaspoons
8 Knives
Hostess Set: 6-inch sugar spoon, 7-inch butter knife, 8½-inch serving fork, 8¼-inch solid serving spoon, 8¼-inch pierced serving spoon
If you are looking for a larger flatware set with a hostess set included then this J.A. Henckels Premium Series Opus 45-piece Flatware Set would be the best choice. You can grab it easily from the Amazon store for just under $100 with Free Shipping.