[asa]B00MYJDUYS[/asa]
Icing a cake with thick lines and designs is no big deal but when it comes to making thin icing lines with delicacy and perfection specially on pastries and cookies, no one does the job better than an electric icing dispenser similar to the SugarVeil icing dispenser shown in the above picture. Continue reading below to learn more about how this product actually makes delicate icings tasks real simple and easy.
With SugarVeil Icing dispenser you are able to make very thin icings lines without applying any pressure what so ever. The electric icing dispenser is operated via 110V power air pump and it starts shooting icing from its tips when you place your finger on an operation sensing hole which detects your finger and starts working immediately. So you only have to hold the dispenser and no pressing, just concentrate on your decoration.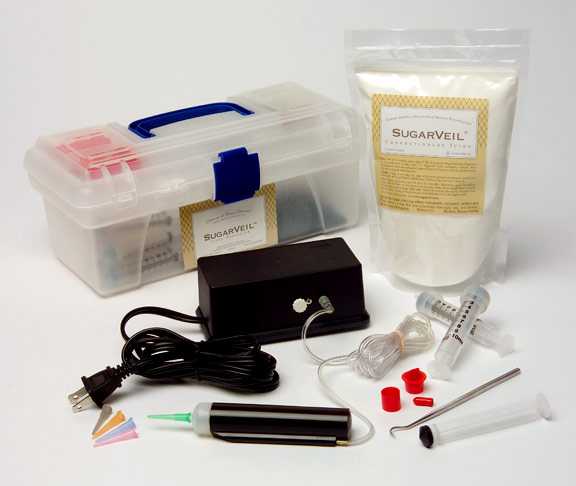 With this SugarVeil Icing dispenser you can make letters and very fine decoration which would otherwise be very difficult with other manual icing dispensers. The dispenser comes with all the necessary accessories to get you started. Just fill the air powered dispenser with your own choice of icing, place your finger over the hole and draw your design. The kit includes an air pump with a regulator, 14 different tips, 8 reusable cartridges, cleaning plungers, storage caps, followers, wire tool and a very detailed instruction manual. For more professional icing enthusiasts, you may want to refer to the 45 mins DVD by SugarVeil, which contains a very thorough demonstration about creating very attractive designs and shapes.
You may easily order this SugarVeil Icing Dispenser from Amazon (with FAST shipping) at a special discount price plus a bonus promotional offer which might end anytime.