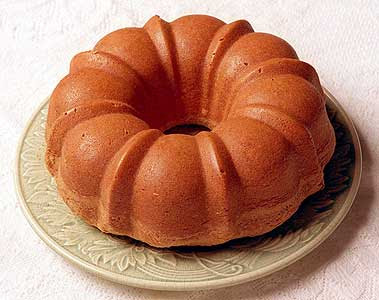 Preparation time : 100 mins. | Serves 6-8 persons
This is one of the easiest cake to prepare at home, the recipe is quite similar to normal margarine cake recipe the only difference is the addition of cream cheese which gives it bit salty and cheesy flavor and result in a healthy pound cake.

Ingredients:
1 1/2 cup margarine (softened)
3 cups sugar
8 oz package cream cheese (softened)
6 eggs
Few drops of vanilla
3 cup all-purpose flour
1/2 tsp baking powder
Procedure:
1. Take a mixing bowl and combine butter, sugar and cream cheese to make a smooth creamy paste.
2. After that gradually add eggs, and beat after each addition so that egg yolks and egg white completely mix in the batter to make a fluffy texture.
3. In another bowl, sift together dry ingredients including flour and baking powder.
4. Add this dry mixture and vanilla into the batter using spatula so that no lumps of flour would remain in the batter.
5. Now take a suitable greased baking pan and pour the batter into the pan and bake at 325 degrees for about 90 mins. or until become light golden brown in cake tests done color. You can test the cake by inserting the tooth pick or knife tip inside the cake from center if it comes out clean then the cake is ready to take out from the oven.