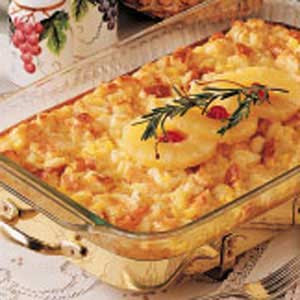 Preparation time : 35 mins | Serves 6 persons
This is an easy casserole recipe to prepare at home, in this recipe pineapple is used as a main ingredient but you may also used other fruits of your own choice to make it more colorful and rich. If you want more crispier and salty taste then its better to use Ritz crumbs in place of Panko crumbs.

Ingredients:
1 can pineapple chunks (drained)
1 cup cheddar cheese (grated)
1/4 cup Parmesan cheese
1/2 cup granulated sugar
3 tbsp flour
1/4 cup margarine
1 cup Panko crumbs
Procedure:
1. Preheat oven to 350 degrees.
2. Take a greased baking dish and spread pineapple chunks onto it.
3. In a mixing bowl, combine sugar, flour and cheese and spread this mixture over pineapple pieces.
4. In another bowl, combine melted margarine and crumbs and sprinkle it over the top. Place the baking dish in preheated oven and bake for 30 mins. until become light golden in color.
5. After that take out the prepared pineapple cheese casserole from the oven and cool it to room temperature so that it could easily be taken out from the dish.