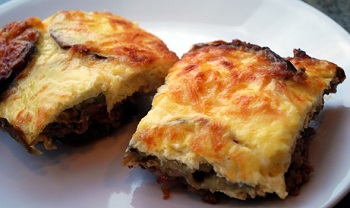 Preparation time: 80 mins. (approx.) | Serves 8-10 persons
This Greek Moussaka Recipe is a casserole dish prepared with eggplant and hamburger meat sauce. You can try this recipe with ground turkey instead of hamburger meat and also you can add some other vegetables too in this Moussaka.
Ingredients:
2 eggplants (cut into thick slices and soaked in salt water)
2 medium onions (chopped)
1 cup hamburger meat
2 medium tomatoes (seeded and chopped)
2 eggs (separated)
4 tbsp white vinegar
2 tbsp white sauce
½ cup grated cheese
1 tbsp butter
2 tbsp breadcrumbs
1 tbsp fresh parsley (chopped)
Salt and pepper to taste
Olive oil for shallow frying
Procedure:
1. Heat 2 tbsp oil in a pan, sauté onion in it for 2-3 mins. just to make it soft.
2. Add hamburger meat and chopped tomatoes along with vinegar and cook over high heat for just 2 mins. then reduce the flame to simmer and cook for 40-50 mins.
3. After that add parsley, salt and pepper, egg whites, and breadcrumbs, stir well to mix all ingredients, and then remove the pan from heat.
4. Heat oil for shallow frying in a pan, and fry eggplant slices for 3-5 mins. just to give brown color on both sides.
5. When all the eggplants are fried, pour half of the remaining fried oil at the base of the casserole dish, then place half of the fried eggplant slices at the base, spread half of the hamburger meat mixture and then repeat this set of layers.
6. Combine and mix egg yolks and white sauce together, pour it onto the eggplant layer evenly, spread cheese, and then bake in preheated oven at 350 degrees F for 15-20 mins. until becomes golden brown from the top.
photo source : 1