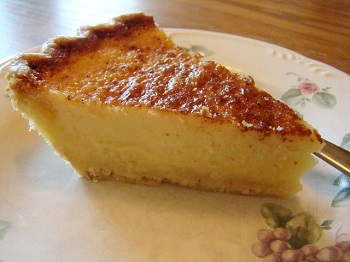 Preparation time : 30 mins. | Serves 4-6 persons
This Buttermilk Pie Recipe looks quite similar to egg pudding but the texture and amount of ingredients are different. You can use different flavors to make this pie like in this recipe nutmeg is used; instead of it cinnamon or lemon juice can also be used.
Ingredients:
½ cup buttermilk
1¾ cup sugar
2 large eggs
3 tbsp flour
1 stick butter (melted)
1 tsp vanilla
1 tsp nutmeg
Procedure:
1. Beat together buttermilk, sugar and butter until well combined and make smooth creamy batter.
2. Add eggs one by one and beat after each addition.
3. Then add flour, vanilla and nutmeg and beat at low speed just to mix them well.
4. Pour the batter into the baking pan and bake in preheated oven at 350 degrees F for just 15-20 mins. or until become golden brown from top.
5. When the buttermilk pie has been done, take it out from oven, cool to room temperature and then cut into slices before serving.
6. Serve the delicious buttermilk pie with dollop of cream.
photo source : 1