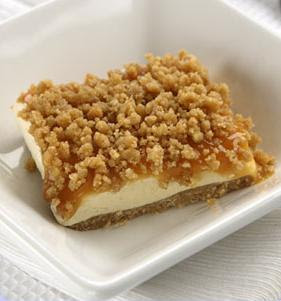 Preparation time : 1 hr. | Serves 12 pieces
This
ice cream cake
is prepared with nuts caramel mixture and digestive crumbs and hence it may looks like no bake cheesecake due to crumbs layer. You may use other flavor of ice cream to make this tempting dessert. This ice cream cake gives excellent taste only when it sets well in fridge.
Ingredients:
200 gm brown sugar
1 pack digestive biscuits (crushed to form crumbs)
200 gm butter
2 cup cornflakes (crushed)
1/2 cup walnuts (chopped)
1/2 cup coconut
1 1/2 liter vanilla ice cream
Procedure:
1. In a mixing bowl combine 75 gm butter and digestive biscuits to form crumbs.
2. In a flat casserole dish make even layer of these digestive crumbs and place it in refrigerator for at least 30 mins. to set.
3. In a sauce pan heat butter and sugar until butter melts and mixes well with sugar to form a thick paste.
4. After that add cornflakes, coconuts and walnuts to the butter sugar mixture and stir to incorporate each ingredients together. Remove the pan from heat.
5. Spread the vanilla ice cream onto the crumbs and then make layer of prepared nut mixture on top of vanilla ice cream. Place the cake in fridge for 30-50 mins until it sets well and then make its pieces to serve individually.