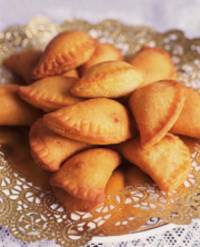 Preparation time : 40 mins. | Serves 12-16 pies
These
fried apple pies
are just like traditional Pakistani samosa but they differ only in stuffing. The stuffing used here is just like baked apple pie. You may also add brown sugar instead of white sugar to make stuffing which would result in another good flavor.
Ingredients:
For Dough:
2 cups plain flour
½ cup ghee or melted butter
1 tspn salt
Water as required
For Stuffing:
2 large apples (peel and cut into small cubes)
1/3 cup sugar
1/2 tsp ground cinnamon
1 cup vegetable oil
Procedure:
1. In a bowl, mix salt and butter in the flour well so that crumbs are formed and feel very soft when rub on hands, the color of flour becomes off white.
2. Slowly add water to knead the dough, make sure the dough should be little harder than normal dough.
3. In a sauce pan cook sugar cinnamon and apples with half cup of water on low heat until sugar melts completely and syrup starts to become thick. It would take 10-12 mins.
4. Take a piece of dough and using rolling pin roll it out to 1/2 cm thick, cut the rolled dough using cookie cutter.
5. Spread a tablespoon of cooked apple on one of a cookie size dough and wrap it from one side. Seal the corners using fork and make other pies in similar way.
6. Heat oil in a deep sauce pan and fry these uncooked pies in oil until become light golden in color. Serve the warm fried apple pies with tea.