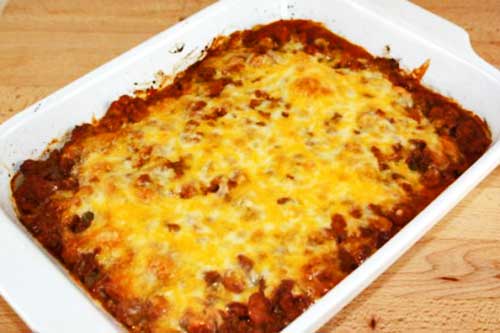 Preparation time : 40 mins. | Serves 8 persons
This Mexican Beef Casserole is prepared with black beans, corns, tomatoes and chilies along with ground beef flavor. The taco seasoning is used to give flavor to all these healthy ingredients. You can make lots of variations to this recipe like adding ground turkey in place of ground beef and use Cajun seasoning instead of taco.
Ingredients:
2 tbsp oil
1 lb ground beef extra leaned
1 medium onion chopped
10 oz kernel corn drained
10 oz black beans rinsed and drained
2 tbsp taco seasoning
12 corn tortillas
3/4 cup sour cream
20 oz rotel tomatoes with green chilies drained
1/3 cup Mexican blend cheese shredded
2-3 jalapeno peppers sliced
Procedure:
1. Heat oil in a pan and cook ground beef with onion until beef turn into brown. It would take 3-5 mins.
Drain extra fat or liquid from the mixture.
2. Add corns, beans, tomatoes with green chilies and taco seasonings and mix them well and simmer for 5 mins. just to incorporate all the flavors.
3. Now take a casserole dish and grease it properly. Place half of the tortillas at the base then spread half of the prepared ground beef mixture and then cover with sour cream. Repeat the layers of tortillas and beef mixture and in the end top with the shredded cheese and jalapeno pepper slices.
4. Bake in preheated oven at 350 degree F for 20-30 mins. until cheese melts completely and turn into golden brown from top.
5. When the yummy Mexican Beef Casserole is ready, take it out from oven and cool it for 5 mins. then serve.
photo source : 1