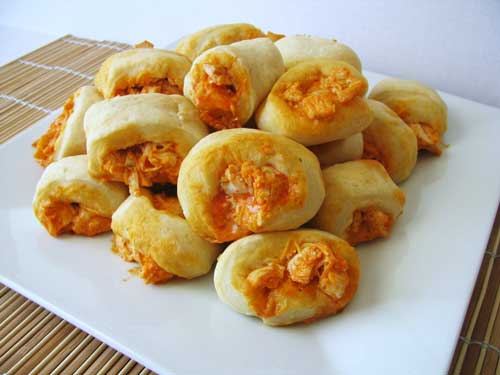 Preparation time : Up to 3 hrs. | Serves 48 bites
This Buffalo Chicken Bites Recipe is prepared with quick chicken filling but the dough takes bit longer time to prepare. You may also try this recipe with pizza dough, which also gives the same result. These bites are usually served with blue cheese dressing.
Ingredients:
For Dough:
1 cup warm milk
2 tbsp brown sugar
2½ – 3 cup flour
2¼ tsp instant dry yeast
For Filling:
1 cup cooked chicken breast (finely diced)
½ cup blue cheese (crumbled)
2 tbsp cheddar cheese (shredded)
¼ cup hot sauce
4 tbsp unsalted butter (melted and cooled)
Procedure:
1. In a saucepan, heat milk with brown sugar until sugar dissolves completely.
2. Transfer the milk mixture to the stand mixer bowl, add yeast and 2½ cup of flour to the mixer bowl, turn on the mixer at low speed then gradually increases the speed and knead the dough for 8-10 mins.
3. Transfer the dough to the counter and then knead it more using hands until becomes soft and smooth. If the dough feels sticky then add flour to make it smooth.
4. Place dough into the greased plastic box, cover it with plastic and then leave it at a warm place to rise for around 2 hrs.
5. Meanwhile, prepare filling by combining filling ingredients and set aside.
6. Punch the dough down and make it a smooth ball, transfer it to the floured surface and divide it into 4 equal pieces.
7. Take a piece, dust it properly with flour and then stretch it to make a 12-inch long rope. Take a floured rolling pin and roll out this rope to a 12×4 rectangle.
8. Divide filling into 4 equal portions, place one of the portions onto one of the widened side of the rolled dough leaving half an inch from the corner.
9. Stretch the bottom side to cover the filling and then press to seal. Start rolling the dough to other end and then divide it equally into 12 pieces. Similarly, prepare rest of the bites.
10. Place these filled dough bites onto the greased and dusted baking sheet keeping half inch distance between each of them. Let it stand as it is for half an hour so that dough would again rise.
11. After that, bake in preheated oven at 400 degrees F for about 5-7 mins or until become golden brown from top.
12. Take out the delicious Buffalo Chicken Bites from oven and then immediately brush it with butter to make the outer looks shiny.
photo source : 1