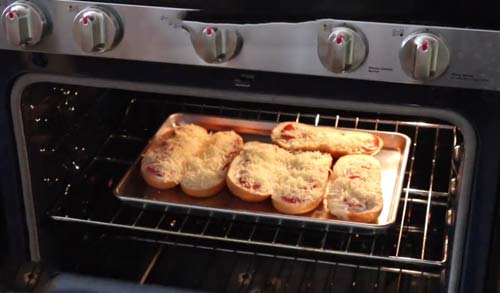 Preparation time: 10 mins. | Serves 4 sandwiches
This Italian Sandwich Recipe is an easy and quick recipe prepared mainly with Creamy Italian Dressing and pepperoni. You may also add some vegetables and pickled veggies to make it richer in flavor.
Ingredients:
For Creamy Italian Dressing:
1 cup mayonnaise
3 tbsp onion (chopped)
2 tbsp apple cider vinegar
1 tbsp sugar
¾ tsp Italian seasoning
¼ tsp garlic powder
¼ tsp salt
Pinch of ground black pepper
For Sandwich:
4 sandwich buns
32 pepperoni slices
1 cup cheddar cheese
Procedure:
1. To prepare the Creamy Italian Dressing, blend all the ingredients of the dressing and make a smooth batter.
2. Slice each of the buns to open their faces but make sure they would remain intact from the other end.
3. Apply the prepared dressing on both sides of each bun, then place pepperoni slices (4 on each face) and then cover the pepperoni layer with shredded cheddar cheese.
4. Bake in preheated oven at 350 degrees F for just 3-5 mins. or until the cheese melts completely.