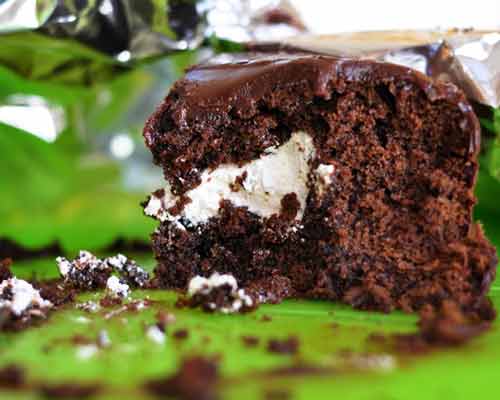 Preparation time : 60 mins. (approx.) | Serves 10 persons
This is the homemade Ding Dong Cake Recipe, which you usually buy from store. It is a delicious chocolate cake filled with some cream filling and chocolate icing. The white cream filling and icing used in various other Ding Dong Cake Recipes are different and in this recipe, it is prepared mainly with milk and butter while the icing is made of simple chocolate sauce.
Ingredients:
18 oz Devil's Food cake mix
For Filling:
1 cup milk
4 tbsp flour
1 cup butter
1 cup sugar
1 tsp vanilla
For Icing:
1 tbsp butter
1 tsp vanilla
3 tbsp milk
2 tbsp cocoa
Powdered sugar as required
Procedure:
1. To make homemade Devil's Food cake mix, follow the recipe instructions of Andes Mint Cookies .
2. To bake the cake for this Ding Dong Cake, use rectangular baking pan.
3. After the cake is ready, cool to room temperature and then slice it into two pieces.
4. Prepare filling while cake is baking to save time, to make filling in a mixing bowl combine milk and flour and then pour it into the saucepan. Cook it over medium heat until it starts to thick like custard. Stir constantly while cooking so that smooth batter would form.
5. Remove the pan from heat and then cool it to room temperature.
6. Beat butter at high speed until it becomes light, then add sugar and beat again until sugar mix well and the batter becomes smooth.
7. Add prepared milk-flour batter and beat again until batter becomes light and fluffy. Filling is now ready.
8. Apply this filling onto the top surface of bottom slice of cake and then cover it with another cake slice.
9. To prepare icing, combine butter, vanilla, milk, cocoa and mix them well, then start adding sugar until the batter gets thick like fudge sauce so that it could set nicely over cake.
10. Apply this icing on top and sides of the cake and level it using spatula. Refrigerate the cake for at least 30 mins. to set the icing and filling and then serve the delicious Ding Dong Cake after cutting into slices.
photo source : 1