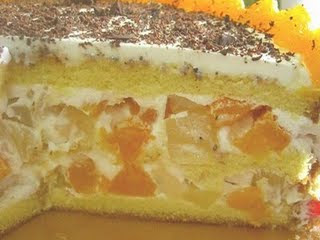 Preparation time : 50 mins. | Serves 6 persons
In this recipe of fruit cocktail cake filling of cream and fruit cocktail is used instead of adding it into the cake batter and this change makes it more tempting and attractive for kids and young people and can also be prepared for occasions like Christmas, New year, birthday, etc.
Ingredients:
For Sponge:
2 whole eggs
1 tsp cinnamon
4 oz. sugar
1 tsp vanilla
1/2 cup milk
4 oz. all-purpose flour
1 tsp baking powder
Grated chocolate as required
For Filling:
25 oz. canned fruit cocktail
250 gm whipped cream
For Icing:
1 cup evaporated milk
1/2 cup icing sugar
50 gm butter
Procedure:
1. For making sponge follow the recipe of sponge cake.
2. To prepare icing cook evaporated milk, sugar and butter in a sauce pan on medium heat until become thick, then remove pan from heat and let it cool as temperature goes down it would become denser.
2. Cool the sponge at room temperature and cut horizontally into two halves from center.
3. Pour the cocktail syrup onto each piece of sponge to make it soft.
4. Mix all fruit cocktail with whipped cream and make the layer of this mixture onto one of a sponge piece. Place the other piece onto the cocktail mixture and pour the prepared icing onto the top of sponge and sprinkle grated chocolates on it. Chill it for few mins. in fridge and then serve the tempting fruit cocktail cake.