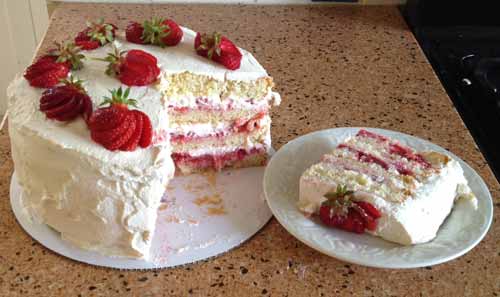 Preparation time: 60 mins. + Refrigeration time | Serves 8-10 persons
This is the Best Strawberry Cake Recipe adapted from French cuisine. This cake is different from other strawberry cakes because it is prepared with the traditional Genoise Cake Sponge of French cuisine. The filling and topping are made from the particular cream filling and strawberry glaze filling.
Ingredients:
For Genoise Cake:
4 eggs
8 tbsp caster sugar
⅔ cup all-purpose flour
2 oz margarine (melted)
1 tsp vanilla extract
For Strawberry Filling:
4 cups ripe fresh strawberries (hulled and sliced)
4-6 tbsp castor sugar (or may vary according to the fruit flavor)
For Cream Filling:
10 oz heavy cream
2 tbsp sour cream
2 tbsp castor sugar
1 tsp pure vanilla extract
5 large strawberries (with hulls)
Procedure:
1. Prepare the sponge according to the instructions mentioned in the Genoise Cake recipe.
2. Combine sliced strawberries with caster sugar and refrigerate for at least 2 hrs. After that slightly crush them using a fork and leave them again for an hour. They will become too soft and you can easily crush them further using a fork. This is your strawberry filling.
3. To prepare cream filling, beat heavy cream, sour cream, sugar, and vanilla together in the stand mixer until stiff peaks are formed.
4. When the cake is done, cool it to room temperature and then carefully slice it into three equal portions.
5. Take the bottom slice of the cake, apple 1/3 of the prepared strawberry filling on top of it, and then spread 2-4 tbsp of prepared cream filling over the strawberry layer. Cover the filling with a medium slice of cake and repeat the pattern of filling.
6. Cover the filling again with the top slice of cake and then apply the remaining cream filling (reserve 2-3 tbsp for topping) to the cake to cover the top and sides. Level the layer with a rubber spatula.
7. In the end, fill the reserved cream filling into the piping bag and using a star tip make florets in a circular pattern.
8. Slice the 5 large strawberries with hulls in such a way that they remain joined from the top. Place these strawberries onto each floret and then refrigerate the cake for at least an hour to set the topping and filling.
photo source : 1