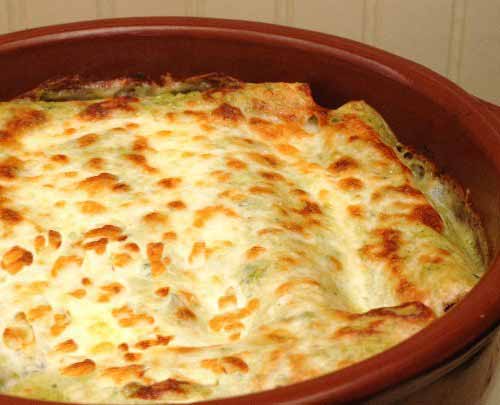 Preparation time : 50 mins. | Serves 6 persons
This Seafood Enchiladas Recipe is prepared with crabmeat and shrimps. The stuffing has not other seasoning ingredient and the white sauce topping in this recipe develops the whole flavor. You may change the stuffing by adding or replacing fish meat as well.
Ingredients:
1 onion (chopped)
1 tbsp butter
2 tbsp crushed garlic
½ lb fresh crabmeat
¼ lb shrimp (peeled, deveined and coarsely chopped)
8 oz Colby cheese (shredded)
6 flour tortillas
For Sauce:
1 cup half-and-half cream
½ cup sour cream
¼ cup butter (melted)
1½ tsp dried parsley
½ tsp garlic salt
Procedure:
1. Heat butter in a large skillet, sauté onion and garlic in it for 1-2 mins over medium heat.
2. Remove the skillet from heat, add crabmeat, shrimp and half of the shredded cheese and mix well.
3. After that put 1-2 tbsp of prepared seafood filling into the center of each tortilla and roll to seal the stuffing.
4. Take a large rectangular casserole dish, place the tortilla rolls seams side down at the base of the dish.
5. To prepare sauce, take a saucepan, add half-and-half, sour cream, butter, parsley and garlic salt and cook over medium-low heat until well blended but the sauce would not reach to boiling.
6. Pour the sauce over the enchiladas, and sprinkle with remaining cheese. Bake in preheated oven at 350 degrees F for 30 mins. or until become light golden from top.
photo source : 1