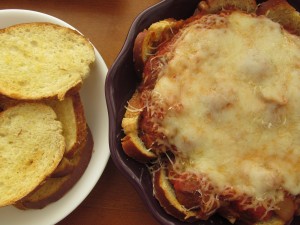 Preparation time: 40 mins. (approx.) | Serves 6 persons
This Meatball Casserole is prepared with crust of French Bread slices while the stuffing is based on veggies and meatballs coated with pasta sauce. The combination is no doubt amazing and closely matches to any sandwich like item.
Ingredients:
2 large French bread loaf (cut into ½" slices)
¼ cup oil
2 dozen cooked meatballs
1 cup bell pepper (cubed)
1 cup onion (diced)
1½ cup tomato pasta sauce
1 cup shredded mozzarella cheese
Procedure:
1. Preheat oven to 350 degrees F.
2. Brush each bread slice with oil and lay them onto the greased casserole dish on the bottom and sides.
3. Bake the bread slices for 5-10 mins. just to make light golden in color only from sides.
4. Take a saucepan, stir fry onion and bell pepper in 2 tbsp oil for just 1-2 mins. then add meatballs and toss well.
5. Now add pasta sauce and gently stir to mix.
6. Transfer this mixture onto the baked bread casserole dish and top with shredded mozzarella cheese.
7. Bake in preheated oven for about 30 mins. until cheese melts.
photo source : 1