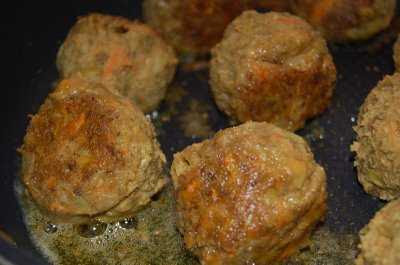 Preparation time : 30 mins | Serves 10 persons
Usually beef is used in this meatballs recipe but you can try this with mutton or chicken as well. It can be taken as a snack or can be served with other regular meal items. This meatball recipe is in contrast with fried meatballs which is generally cooked with gravy and is called "Koftey" in Indian and Pakistani Cuisines. It is a healthy meal and also quite easy to cook.

Ingredients :
½ kg boneless fresh beef (small pieces)
1 boiled potato
2 tbspn roasted gram flour  (roasted besan)
1 tbspn red chili powder
1 tspn black pepper
1 tspn cumin powder
1 tspn mix spices powder or garam masala powder (ground cardamom, cinnamon sticks, cloves)
Salt to taste
3 tbspn vegetable oil (preferably mustard oil)
½ cup chopped coriander leaves
6 chopped green chilies
½ cup brown (fried) onion chopped
Method:
1. In chopper, put meat and potato together and chopped well so that meat becomes smooth and no meat pieces are left alone.
2. Now add all the spices mentioned above and mix them in ground meat.
3. Make small balls of it just like size of a lemon.You may also stuff these meatballs with any flavor such as cheesy mashed potatoes or pickled veggies. You can also utilize the stuffing listed in the kibbeh recipe (replacing lamb meat with beef).
4. In a pan place all the meat balls, cover it and leave for 10-15 minutes on low flame until all the water of meat has been dried.
5. After it remove it from stove and you can fry these balls by first coat in egg and then in bread crumbs.
Servings:
Pour some lemon juice on it and enjoy your yummy meatballs with tea.