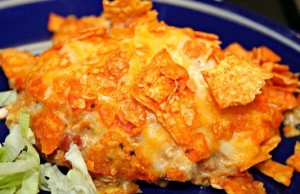 Preparation time : 30 mins. | Serves 6-8 persons
This Doritos Chicken recipe is prepared in two steps; first it is half cooked on stove then baked with topping of Doritos crackers and cheese. The end result is a crumble chicken with cheesy and delicious taco seasoning flavor.
Ingredients:
2 lb boneless chicken (cut into pieces)
1 tsp garlic paste
½ tsp lemon juice
½ cup sour cream
1 tbsp taco seasoning
1 tbsp tomato puree
1 cup Mexican Blend cheese (shredded)
Salt to taste
1 can diced tomatoes (drained)
1 large bag Doritos (coarsely crushed)
1-2 tbsp olive oil
Procedure:
1. Marinate chicken with garlic, lemon juice, sour cream, taco seasoning, tomato puree and salt. Leave for 15 mins.
2. Cook chicken over low heat in a saucepan for about 10-15 mins. just to make it saucy.
3. POur the chicken with all the marinade into the casserole dish, spread cheese, diced tomatoes and crushed Doritos onto the chicken and bake in preheated oven for about 15-20 mins. until cheese melts and chicken cooked well.
4. Serve the Doritos Chicken with fresh salad.
photo source : 1