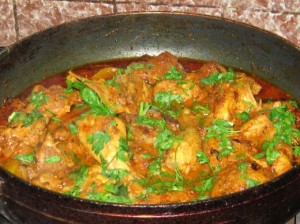 Preparation time : 30 mins. | Serves 8 persons
This mughlai chicken recipe is from South Asian cuisine, it is more popular in India and Pakistan rather than other regional countries in this region. This recipe is some how related to traditional korma recipe addition of cream and almonds make it different from that curry.
Ingredients:
1 kg boneless chicken
1 tbsp ginger paste
8 cloves garlic paste
6 tbsp blanched almonds (powdered)
½ cup vegetable oil
1 cinnamon stick
2 bay leaves
5 cloves
4 green cardamoms
3 black cardamoms
2 medium onions (sliced)
2 tsp ground cumin seeds
2 tsp red pepper
½ cup yogurt
200 gm cream
2 tsp garam masala
Salt to taste
Coriander leaves for garnishing
Procedure:
1. Heat oil in a wok and fry chicken until become golden brown in color, then take them out form the oil.
2. Now add cardamom, bay leaves and cloves in the same oil and fry until pleasant smell starts to come form the spices and bay leaves turn brown.
3. After that add onions and fry till become light golden brown in color.
4. Add ginger garlic paste and fry for a minute.
5. Now add yogurt, red pepper and cumin and cook until oil starts to separate form the gravy.
6. Then add chicken pieces, cream, garam masala, almonds and salt and simmer for 10-15 mins.
7. Sprinkle some coriander leaves on top and then serve the delicious spicy mughlai chicken with naan.